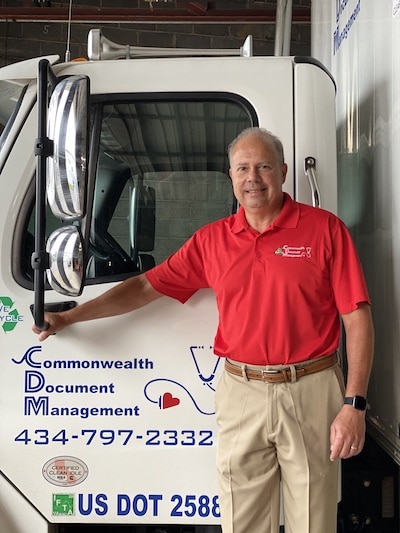 Rob Giannini
Chief Executive Officer & Founder
Rob is the Founder and Chief Executive Officer of Commonwealth Document Management, Inc. (CDM).
CDM is a locally owned and operated full-service document management company providing on-site shredding, hard drive destruction, record storage, and scanning services in Virginia and North Carolina since 2011.
Rob is a native of Charlottesville, VA and is a graduate of Virginia Commonwealth University / Medical College of Virginia where received a Bachelor of Science in Health Care Management.
Rob also serves as the Vice-President of Business Development for Commonwealth Home Health Care, a sister company of CDM and has worked in this capacity since 1995.
Previous to his time with the Commonwealth Companies, Rob worked as a Licensed Nursing Home Administrator for Medical Facilities of America and managed Skilled Nursing Facilities in Virginia.
Rob and his wife live in the Danville, VA area and have two children, Cameron and Courtney and two grandchildren, Bennett and Adalynn.
Rob is a huge sports fan and enjoys spending time with family, traveling, boating, kayaking, hiking, fishing and playing golf.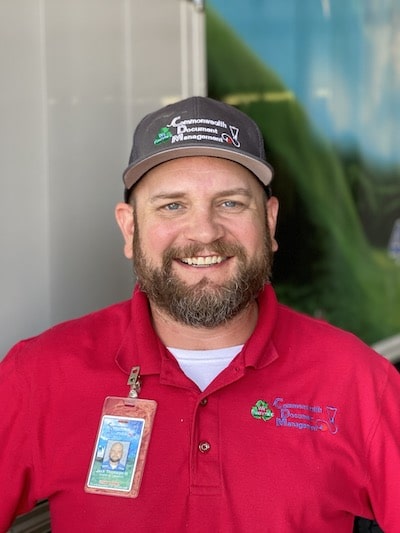 Jack Thomson
Director of
Operations
Jack Thomson is Director of Operations at Commonwealth Document Management.  Jack works daily to manage routes and operations for the company.  He strives to serve Commonwealth customers; as well as, his work team in the most productive manner.
When Jack is out of the office, he enjoys spending time with his wife, Melanie, and son, Noah.  Jack and his family can be found camping or watching Noah, a rising junior, on the baseball field.  Saltwater fishing and spending time with his extended families are also things Jack enjoys on days off of work.
As a member of the Commonwealth Group since 1995, and Commonwealth Document Management since November 2015, Jack is proud to work for a company that has been such an asset to him.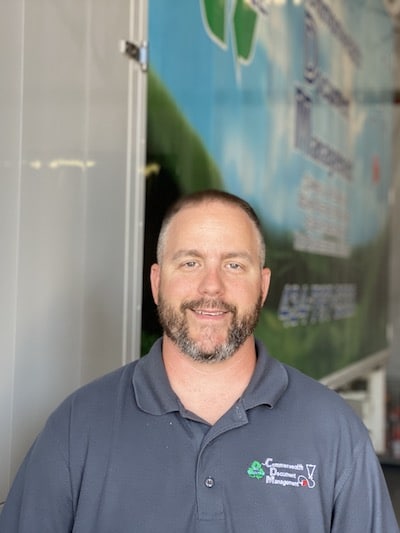 Nick Clark
Director of
Business Development
Nick was born and raised in the Danville, VA area. He has been with Commonwealth since 2009 and started with Commonwealth Document Management in 2011 when the business started.
His wife Ashley was also born and raised in the Danville area, where they both graduated from Tunstall High School together.  She is a mammographer for a local doctor's office.
They have two kids, Mason who is 12, and Harper who is 8. Harper loves softball and is heavily into dance. Mason loves baseball and playing Fortnite.
Most of Nick's spare time is either spent on the water at the lake or coaching Mason's baseball team. When it's not baseball season or too cold to be on the water you will find him in the woods deer hunting.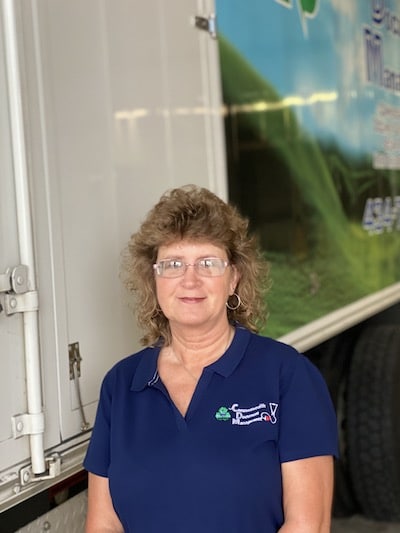 Susan Hunt
CSR
Susan is the Customer Service Representative for Commonwealth Document Management.  She is a Southern Virginia native and a graduate of Longwood College where she received her Bachelors Degree in Business Administration.
Upon graduation from Longwood College she moved to North Carolina where she lived for three years to pursue a job opportunity with a national inventory service company but later returned to the Danville area to settle down and be close to family.
Susan has been an employee with the Commonwealth companies since 1994 working under the Home Health and Hospice divisions before joining the Commonwealth Document Management team in August 2019.
She met her husband Frank upon return to the Danville area and they have been married for 26 years and have two wonderful children, Rebecca and Tanner.
Susan loves shopping, crafting, traveling, and spending time with her family and friends.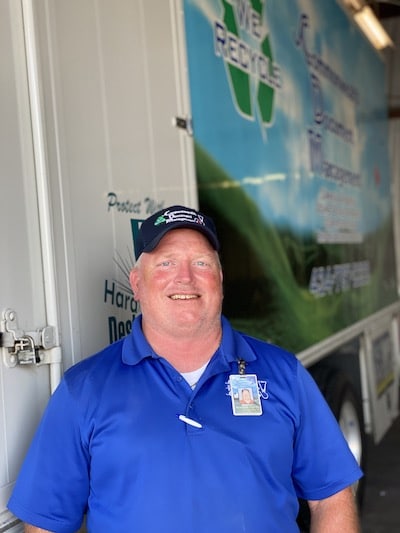 Gary Cox
Secure Destruction Specialist
Gary has lived in Danville for 34 years. He started working for Commonwealth Home Health Care in Jan. 2010 and moved over to CDM in Oct. of 2016. He enjoys camping, fishing, hunting, and four-wheeling.
Gary's wife Minnie works at Carter Bank and they have two daughters, two granddaughters, and a son. His daughter Dana works at Airpark Storage, our sister company, his daughter Victoria is a veterinarian at Chatham Animal Clinic and his son is in the Army stationed at Fort Bragg.