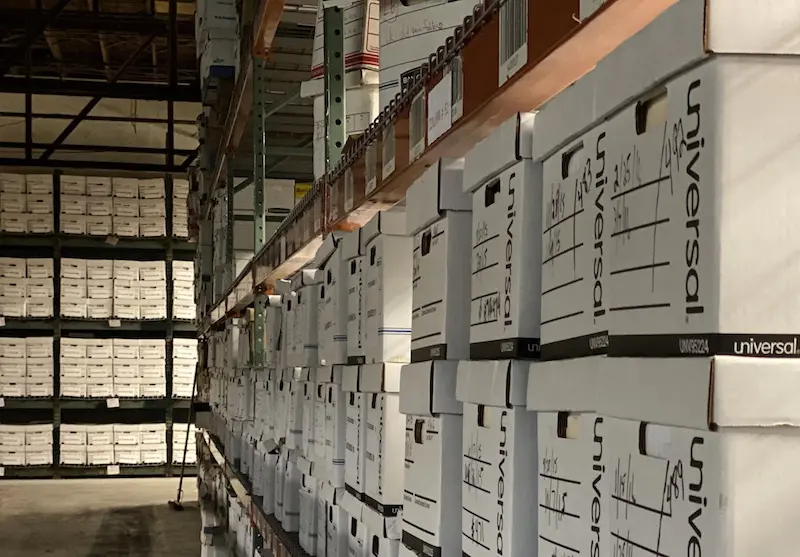 Frustrated by Your Records Storage Reality?
Are you running out of office space to store documents? Can you ensure privacy protection for the records you maintain? Are you anxious that your record keeping practices aren't legally sound? Are your internal processes suffering due to lost or hard-to-find files? To remain competitive and stay compliant, you need to establish a solid document retention and management system.
Commonwealth Can Help
We offer an economical solution to storing and managing your business files. Our records storage and management program provides a reliable and secure method for relieving the burden of having to keep up with your document inventory. We eliminate the overhead and administrative headaches common to in-house document storage schemes by providing:
Offsite document storage
Document retention management support
Identity theft protection
File retrieval and delivery as required
Let us handle your document management so you can focus on the other important things in your business.
Clients through Virginia and North Carolina trust Commonwealth to support their offsite records storage and protection requirements.
The Right Document Storage Solution Makes All the Difference
Your documents shouldn't be stored just anywhere. Relying on a warehouse or self-storage facility can create a number of problems, from wet and moldy documents, to stolen files, to employees injured while lifting and stacking heavy boxes. Commonwealth's records center was purpose-built for protecting and preserving paper documents.
We offer a safe, clean, secure facility for storing confidential business records. All documents are stored on high-density records storage racking systems. Unlike a self-storage facility or warehouse, we only store hard copy documents and nothing else. We use state-of-the-art technology and carefully-designed and monitored processes to constantly maintain the security of our clients' confidential information, including:
Zoned fire detection and suppression technology
24-hour surveillance
Strict building access monitoring and control
Records Access and Enhanced Document Management
The security of your records is critical, but so is convenience and control over your documents. We eliminate the need to constantly riffle through boxes and file cabinets just to retrieve and manage your records inventory. Our security-screened and uniformed professional couriers deliver your documents directly to you in GPS-tracked and alarmed vehicles, maintaining strict chain of custody protocols at all times. Commonwealth Document Management also offers standard and expedited delivery options to meet your document retrieval needs.
Professional File Indexing Support
Proper file indexing is a cornerstone of a good records management program. Commonwealth is your local resource for professional file indexing services. Our records management specialists take you from a disorganized file room and/or office full of document storage cartons to a fully-compliant file management solution that incorporates optimal records retention practices. We help you:
Organize documents
Classify files
Re-index business records
Securely purge and destroy end-of-lifecycle files
Files are indexed according to your business needs and industry requirements. If you do not have a complete list of your business records, we will create a master inventory that streamlines the time and resources required to find files. We also combine our file indexing services with our records storage solution for a secure, efficient and cost-effective method for managing your archival and semi-active document inventory.
Improved Accessibility to Your Business Records
An accessible records system not only improves your workflow capabilities but is also important to your organization's longevity. Commonwealth's advanced indexing methods allow you to review your records inventory via our remote access software, where file pickup or delivery can be requested from the convenience of your business office or home office. Files can also be searched using, but not limited to, the following criteria:
Department
Client and/or patient number
File type
Retention period
To request a document and records storage management quote, please call us at (434) 797-2459 or complete the convenient form on this page.
We look forward to serving you!