Should Your Business Have a Shred-All Policy?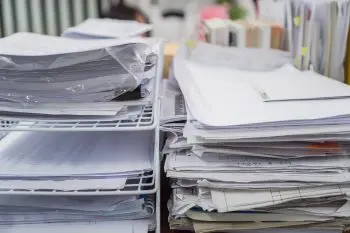 As new data privacy regulations and laws begin to grow both in the United States and internationally, it is becoming increasingly more important for businesses to evaluate their policies, procedures and practices in regard to the handling and destruction of secure documents.
First of all, does your company have policies and procedures in place for the handling and destruction of confidential documents at all?
If the answer is "Yes", who within your organization monitors compliance?  If no one is monitoring for compliance, how do you know staff is staging the proper documents for secure shredding?
What are Confidential Documents?
Many businesses do not pay sufficient attention to securely handling confidential paper waste.  Yet if staff had a clear-cut idea of what classifies as confidential documents, they would at least be more conscious of how they're handling and disposing of different data.
For the sake of ease, you can effectively narrow down the different types of confidential documents into three categories: 
Personal data: customer orders, delivery notes, invoices
Sensitive data: HR records, medical information
Commercially confidential data: financial documents, business strategy and policy, product and patented information
These are the documents that staff should recognize as potential data threats which they should shred as second nature.  But do staff always think through the scenarios above before they dispose of documents?
To minimize the risk of improper disposal of confidential documents, establishing a "Shred-All Policy" for all paper waste makes a lot of sense. 
Better Safe Than Sorry
Many organizations preparing for new document security and privacy requirements and laws are now implementing a "Shred-All-Policy" as a matter of routine.  All waste paper would be placed in secure, locked shred consoles and bins strategically located throughout the office to be shredded.  That way it becomes a part of their routine and it avoids confusion about which documents to dispose of.  The average working document can be dropped into a secure console or bin and is rendered harmless in just a few seconds.
Clear desk policies can also help with compliance ensuring that potentially sensitive information is locked away out of sight of visitors and third parties in your offices.
However, implementing a "Shred-All Policy" for all paper waste and having a contract with a Professional Shredding Company will save you the worry of a potential data breach.
Commonwealth Document Management (CDM) can provide your business with NAID AAA certified on-site shredding services. CDM can help your business establish a "Shred-All-Policy", set up secure Collection Containers in strategic locations throughout your office and offers both Scheduled Shredding and One-Time Purge Shredding. 
For more information, please go to our website at www.commonwealthdocumentmanagement.com or call us at (434) 201-8343.